Reply To: Thoughts on Undertale & Deltarune?
January 30, 2020 at 11:56 am
#21308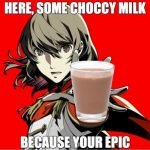 PotatoSalad128
FUNK: 1,489
Rank: Lion-Tailed Macaque
I loved Undertale.  It's a shame the fandom ruined it.  Games like Undertale don't feel like you're playing the game: it feels like the game is playing you.  The characters are aware and actually do react if you go back in time to undo something you regret, or if you try to get different endings by replaying the game.  Undertale and D:BH really make you think and question your morals and discourage trying to manipulating the game by tugging on your heartstrings or providing consequences, even if those consequences are just a character telling you that they know what's up or that they know that you're doing something.