Reply To: What is your favorite anime and why?
January 29, 2020 at 10:28 pm
#21084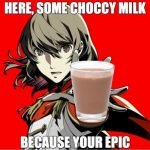 PotatoSalad128
FUNK: 1,489
Rank: Lion-Tailed Macaque
I remember watching Karakai Jozu No Takagi-San.  It's absolutely my favorite anime.  It's about two middle schoolers, Takagi and Nishikata and it's so wholesome.  Takagi constantly teases Nishikata and he tries (and fails) to get back at her.  It reminds me of the happy carefree days when I was younger.  The anime isn't for everyone, but I really enjoyed it.  I plan on reading the manga soon.