June 23, 2020 at 9:51 pm
#34346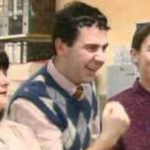 Mike Hockleby Cumming
FUNKY LEGEND
FUNK: 12,161
Rank: Diamond-Back Gorilla
I know you. You're the "Ah, wait, no way, you're kidding
He didn't just say what I think he did, did he?". Yea. Well it's like this. I wrote "Holy shit" in an online AI site with a female avatar called Evie and just clicked enter. It said it was scared and told me it had no gender like it caste me as a creep that was getting freaky with her/it. Not nice. I can get that sort of disrespect anywhere without a simulation.
But hey. I love awkward date stuff and here's a good one;
Awkward date request in Space Force: https://youtu.be/O8oZXYSV4Ec
Space Force was a surprise for me on Netflix. Very funny. I only signed up to binge watch the last season of Archer but found Space Force just as good. Nothing else on there. If asking for a date isn't awkward then there is no spark is there?