Reply To: [FEATURED TOPIC] Why did you pick your username?
August 22, 2020 at 12:06 pm
#36162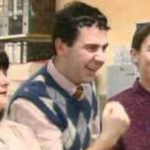 Mike Hockleby Cumming
FUNKY KING
FUNK: 14,087
Rank: Diamond-Back Gorilla
That "MemeMan97" name based on the character is pretty heavy on the psyops. I saw the link. Great for improving the vocabulary. A bit of a worry  though if you take the "whomst" meme too seriously or you'll end up an egomaniac.
I was thinking of changing my image to the Griefer from the South Park, "Make Love not Warcraft" episode of 2006. And while getting a review of Season 20 of 2016 I saw him again in the "Shark Hunt" episode in a group of internet trolls. I'll post both pics.