Reply To: Slippers with or without socks?
August 9, 2020 at 2:10 pm
#35844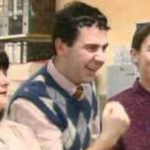 Mike Hockleby Cumming
FUNKY KING
FUNK: 14,087
Rank: Diamond-Back Gorilla
If you have Ugg boots you don't need socks but if you wake up at night smelling gas and go to the kitchen and can't smell it any more it's time to get a new pair because you haven'tbeen wearing socks in them and they are synthetic wool. But that's not the big topic of fashion at the moment.
With everyone at home in isolation and nothing but their interwebs to keep them company there is a huge mask debating epidemic online. I've been mask debating myself silly of late. Just don't get caught mask debating when your mum walks in on you. I'm against masks myself and people have very strong emotions on the subject often leading to a climactic conclusion. I get a little hot under the collar when that happens so I often have a cigarette after mask debating to relax and calm myself down. All I can say is try not to get too into mask debating or you'll find that you are a chronic mask debater before you know it. Be careful when out and about too. The police are pulling out their big sticks and coming across hard on those who mask debate in front of them after being pulled off at the side of the road.