Reply To: Let's write a script for a Movie starring Sam
August 5, 2020 at 8:20 pm
#35713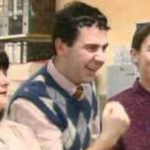 Mike Hockleby Cumming
FUNKY LEGEND
FUNK: 12,161
Rank: Diamond-Back Gorilla
Introducing Edgar at some point in the movie. As you can tell by the name no self respecting Westerner is calling himself Edgar. So of course he's a service consultant/call centre operator in a cube farm in New Delhi. His real name is Kash Din. But let's just call him Edgar.
Naturally when Sam has to register a new ABN, 1300 Name number, business name or what not he can't find the portal or make heads or tails of the process. That's where the middle men like Edgar come into the picture. Edgar is not the mastermind. He's just trying desperately to get a lead so he hasn't wasted the last 15hrs of his life for nothing and there is no end to what he is willing to say to seal the deal. Finding the real masterminds behind it would require tracking though a labyrinth of Companies and trusts set up in Vietnam that ultimately leading back to Barclay's Bank in London and the Rothschilds. Just like Bitconnect.
So Edgar is the front man for all sorts of businesses which for all he knows are legitimate. You see, if a sales rep believes in the product then he is more likely to sell it. So Edgar also has three shitty monitors set up, one for each company he works for. A Commodities scam, a middleman for setting up something that is free but you don't know how to set up yourself and Customer support at Optus.
I take this experience from a telemarketer who wanted to sell me a 1300 NAME ph. no. for the low low price of just $79 a month or so. So I thought, "this has got to be a rort. I can get it cheap as I know." I found an organisation called the ACMA. So I got a number forever for $250. I just had to activate in within 2 years on a plan. I got a set up to re-direct to my mobile phone.
I knew a guy who paid a few hundred dollars for an ABN too.
I also know a guy who put $5000 to invest in a "commodities" scam. I thought, "Wow. A sucker is born every minute". That was 8 years ago. By now his portfolio should be worth about 8 trillion dollars at the investment return they promised.