Reply To: [FEATURED TOPIC] Goats outside with Microsoft Sam
May 21, 2020 at 12:48 am
#32889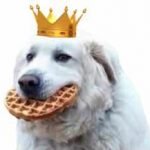 Kalle69
FUNKY LEGEND
FUNK: 14,777
Rank: Diamond-Back Gorilla
First I wrote down the lyrics
Put it in to the sam tts bot, this voice is built in to windows xp, but to make things less complicated, I just used this website https://tetyys.com/SAPI4/ , I put each sentance as their own audio file, but you don't have to.
Then I downloaded the video and an instrumental of the original song.
Then I edited it together, first making sure the video and instrumental matches, then I started adding inn the TTS voice, changing the speed sometimes to make it sound better, but not always because I'm lazy.